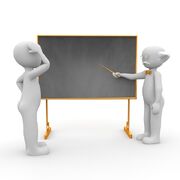 Please allow a minimum of one week for a response to your mentoring request. Official responses will usually come from a Vanguard team member who will look at requests when they have the time to do so. We look forward to making your wiki's content portable!
To place a new mentoring request, first read about the Mentoring process and then click "Add new request". Fill in the form that appears and click "Submit" to leave your request. Good luck!
Progress: 51% of requests done.
New and Unassigned
These do not yet have an assigned Mentor.
Active
Pending and completed requests
Don't see your request on this page? Be sure to check for it in the on hold and completed requests sections. If all else fails, check your contributions on this wiki, and be sure to click "Follow" in your toolbar on your request.
Ad blocker interference detected!
Wikia is a free-to-use site that makes money from advertising. We have a modified experience for viewers using ad blockers

Wikia is not accessible if you've made further modifications. Remove the custom ad blocker rule(s) and the page will load as expected.