| | |
| --- | --- |
| | This request has been closed and completed to the satisfaction of the requester. |
What is your username?
Are you an admin on the wiki you are asking about?
Please link to the wiki (or the specific templates or pages you want help with) here:
What would you like help with (e.g. styling or making an infobox or page portable)?
Any other information (e.g. links, screenshots, or snippets):

Hello guys! Overwatch Wiki is in need of "mobile" fix. But we don't want it to affect Oasis drastically. So:
Responses
The unvisible statistics were caused by inline styling. The easiest solution is moving the CSS to a class. Copy
this
CSS to your wiki's Wikia.css or Common.css. Also I think adding stat summary as plaintext would be a good improvement for Mercury.
14:20, September 5, 2017 (UTC)
We'll have a member of Vanguard looking into this soon. Thank you for your patience. — FishTank
(wall) 15:08, September 5, 2017 (UTC)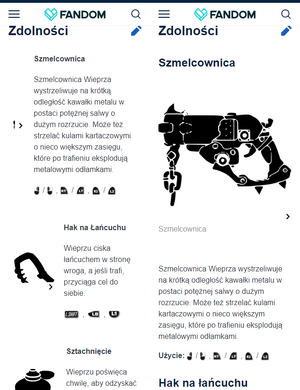 Hi! Your ability and superability templates are using tables in an unintended way. I've rebuilt it to use normal tags like <h4> and <p> and later I've styled them with CSS, so they'll appear as they are right now. Additionally, I've merged these two templates, so they will be easier to maintain. You can test it here (mobile preview).
Let me know what do you think about this, so I'll be able to publish it on your wiki. If you have any questions, feel free to ask.
– Luqgreg 21:30, September 10, 2017 (UTC)